Part #1. Who we are and why the hell we are here
The youngest of the bros Aly (the gamer on duty) and Salem are here to give you the full guide to the latest Fire Emblem: if as requested by my dearest bro Mari.
Don't we all, Salem.
Let's start with bragging.
Boy, I was living the life in August. Just look at it. It has the FE theme too. Feel the swag.

I can never stop appreciating it so let's keep that in mind and continue. Salem, how can you describe FE: if in short?
Yes, that's the essence of it. Plus trash. Mountains of it. Everyone should be prepared to experience those things in turns here.
First of all, you play as the sheltered prince/princess of Nohr (暗夜 'anya' in JP, meaning "dark nights") who has a heart of gold, personal tower and a whole family of bachelors and bachelorettes.
Yes, you can marry them. I promise it's not weird. Well. It's not as weird as your strange father with impressive vocal chords and poor skincare.
I'm bringing it back
But wait, there's more! Should this family not be hot enough for you, you can get a new one for free! Meet Hoshido (白夜 'byakuya' in JP, meaning "white nights")!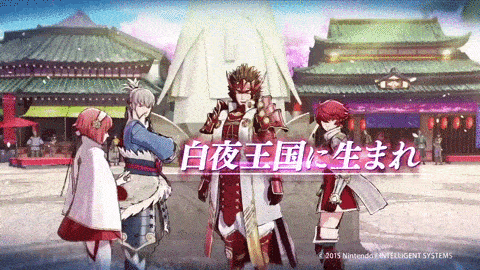 Complete with sakura petals. Also the tall dude has the same VA as Nozaki. Now you can't unhear it. I know I can't.
Yes, we'd all be so cute and cuddly together if we weren't trying to kill each other on a daily basis (or if we had money for the third route).
This is the gist: you have to fight the family you side against. Them and aaaalllll their friends/servants (some of which are way trashier and hotter, bless). It gets even funnier when you're on the second playthrough and have to fight the side you just spent 40+ hours matchmaking for.
LEAVE
You'll be choosing the sides by the end of Chapter V. Trust me. It's not nice. You're gonna feel things. Primarily pain. You're gonna say things. Primarily this:
Oh and after you chose the side? You're gonna get the real looong dialogue where the family you didn't choose will continue to stab you in the heart. Repeatedly. And then fight you. The whole game throughout. This game runs on tears, it's in the code. Game development at its best, what a time to be alive!
Next time: Your Butler Takes No Shit or Welcome Joker
The following two tabs change content below.
The youngest of the bros. Survives mainly on video games, Japanese and art. Will ride at dawn for her bros.