2016 Not Goals
Anyone who knows me knows that I am not The World's Greatest Goal Setter. Everything I think about accomplishing is always kind of vague, 'big picture' and less concrete which is, of course, what everyone tells you not to do. (Google SMART goals, if you must)
But, because I am 1000000% about solidarity and because Mari made goals, I think it's worth saying, hey maybe I should have things I want to accomplish this year.
Anne, why WOULDN'T you have things to accomplish this year?
Well, vague voice of reason that haunts my posts, this is the first year in forever I haven't been in school and therefore working toward some incredibly specific end goal. High school was to get to college, college was to get to grad school, grad school was to get to my job and to just survive winter. Now look at me, secured with full-time employment and really just kind of coasting through life.
So, without further ado, my goals for 2016.
Eat more vegetables and move more
GOD, what a CLICHE. It KILLS me to put this on here but I've been eating terribly since moving back south. I'm not going to actively try to lose weight just yet, maybe that will be a later 2016 goal, but for now, baby step my way into a healthier lifestyle.
Learn Korean
I made really great progress on starting to learn this language in December. As of writing this post, I have a fairly good handle on Hangeul and I can recognize words and phrases in the Korean dramas.
For those of you also interested, I have been using Talk to Me in Korean (TTMIK) as my number one learning resource. They're great, easy to understand, and their lessons are completely free- you choose to pay for any physical copies/lessons you want. I just got the workbook pictured above- I love it!
Accomplish Work Goals/ Finish my dad's website
Believe it or not, I do have some goals and they all involve my job. I won't go too into detail but basically, I want to make things better than they are now, hopefully with T.O.P level of energy efficiency. My dad also entrusted me with making his company's website like 2 years ago and it is in heavy need of updating which I haven't done because #skewl then adjusting to a new job. I feel terrible because I just remembered it about an hour ago when we got dinner together. Sorry, dad!!!
Buy furniture and get rid of that God-Forsaken Futon
Y'all, I cannot express enough how wildly unpopular the God-Forsaken Futon is, but it is wildly unpopular. No one likes it. It is stupidly uncomfortable.
I bought it off a friend in 2014 for $40 and it came with a free chair that is comfortable but a total eyesore. Basically, my apartment still has the "I'm in college!!!" feel to it that I just really need to graduate from because, let's be real, I'm not in college and I want a more comfortable couch, damn it! I want a couch and a big comfy chair for reading and writing and I want a bigger TV but that may have to wait for 2017. Regardless, I need to invest in an upgrade. #pretending2adult
Write More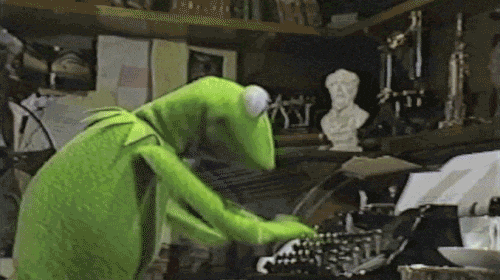 It's lucky for me that Mari wanted to start our not-lifestyle blog, huh? Even though this is casual with minimal editing, it's still a good opportunity for me to write more than say, an informational e-mail. I haven't written in almost a year- since I graduated grad school- so I think it would behoove me to get back into the swing of it all. Plus, I used to really enjoy writing little stories, so I think I'll try to write a fiction story at some point this year, just for me, that hopefully isn't a total self-indulgent snooze-fest.
Finish the LIP Music
Listen, I was tasked (which was a great joy and honor, btw) with making music for the Love in Print Visual Novel (that may or may not ever be completed… Mari & I are totally sorry, Alybro, we'll finish, we promise!!) and honestly, I've never made music to that degree before. I owe it to my talented bros to give them music worthy of their beautiful writing and art.
So, that's it. Those are the goals. To echo Mari, what are yours??
Happy 2016, Everyone!!
The following two tabs change content below.
Anne is a Huffletuff who often calls it as she sees it without a sugarcoat. She in possession of absolutely no chill particularly around Park Bo Gum, T.O.P, puppies, and any other cute lil' animals. Her days involve interpreting just what the hell college students mean at any given moment and her nights include watching an absurd amount of Korean dramas.